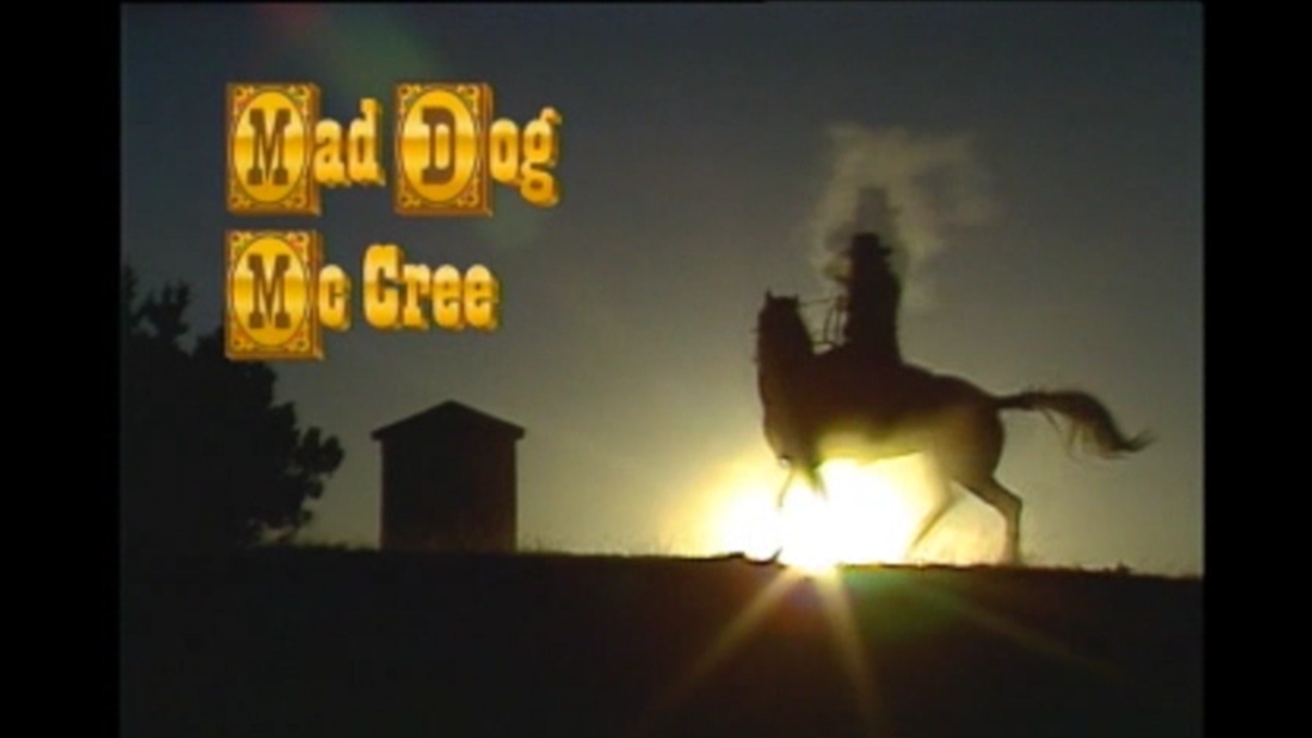 Mad Dog McCree
---
Le monde se divise en deux catégories, ceux qui ont un pistolet chargé et ceux qui creusent. Toi, tu creuses.
Test du jeu d'arcade de légende dans lequel la principale distraction est de dégommer des Cow boys en prises de vue réelles!
---
Bienvenue au saloon pour un carnage annoncé
Si comme moi vous avez grandi au siècle dernier, vous avez sûrement connu les salles d'Arcade, ces lieux de débauche du jeu vidéo où on pouvait claquer en une journée l'équivalent du PIB d'un pays développé, les consoles n'étant pas encore autant démocratisées. Et, entre les flippers, les bornes de Street Fighter II, les cabines de pilotage (After Burner, Out Run, Ridge Racer, …), et même les simulations de ski (Alpine Racer 2), on pouvait trouver un jeu de tir au pistolet complètement fou : Mad Dog McCree !
Imaginez vous plongé en plein milieu d'un western spaghetti dans la peau de Clint Eastwood pour délivrer une ville de l'Ouest sauvage du joug de Mad Dog McCree et de sa bande qui, non content de terroriser la ville, vient de capturer le maire et sa fille. Ni une ni deux, vous enfourchez votre fidèle destrier et partez à la chasse au bandit à travers plusieurs passages obligés du western : le saloon, la prison, la banque, ou encore la mine abandonnée.
Il joue de l'harmonica... mais il joue aussi de la gâchette.
Dans les phases de duel, seule la rapidité compte
Ce qui fait que Mad Dog McCree est un jeu absolument fabuleux pour l'époque (le jeu est édité par Capcom en 1990 et développé par American Laser Games) est qu'il est entièrement réalisé en prises de vue réelles avec de vrais acteurs dans de vrais décors ! L'immersion est totale, on rentre véritablement dans le film, il n'y a plus de barrière entre cinéma et jeu vidéo comme vous pouvez le voir sur les captures accompagnant cet article. La jeu tourne à l'époque sur format Laserdisc qui donne des rendus graphiques à tomber, rappelez vous Dragon's Lair, Space Ace, ces jeux au rendu dessins animés !
La borne dispose, bien entendu, d'un flingue qui nous permet de dérouiller les bad guys en ciblant l'écran au bon endroit et en tirant à la manière d'un Time Crisis ou d'un House of the Dead pour citer des jeux plus récents. Après une séance d'entrainement sur des bouteilles vides, on se lance dans la ville et la magie opère. Tout y est : le barman qui donne des informations, les duels en un contre un où il faut être le plus rapide, le croquemort qui vous enterre si ça ne se passe pas bien, la prise d'otages dans la banque. La mise en scène est juste magique et American Laser Games a fait un travail incroyable sur ce jeu.
Tu sais que tu as la tête de quelqu'un qui vaut 2000$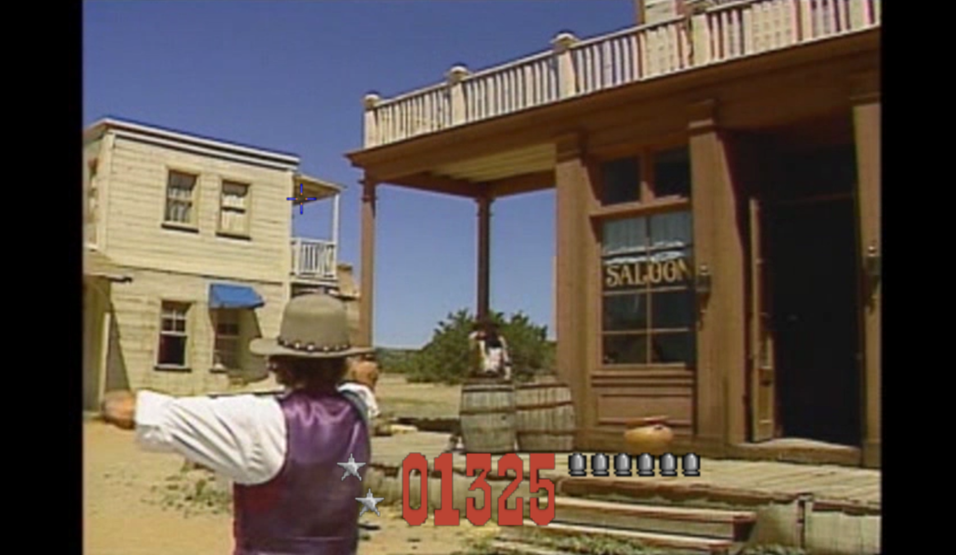 Le shériff va vous aider, mais plus pour longtemps
La contrepartie de cette démonstration technique pour l'époque est une durée de vie limitée qui mise tout sur la mémoire du joueur pour savoir où sont les ennemis et donc pouvoir les prendre de vitesse. Une fois ce principe maîtrisé, le jeu peut se terminer assez rapidement, même s'il vous faudra plusieurs heures avant d'arriver à ce niveau de technique surtout en mode difficile où les ennemis sont d'une rapidité redoutable. Il faut aussi compter qu'à l'époque, il fallait rajouter une pièce pour chaque crédit supplémentaire, handicap qui n'a plus lieu d'être si vous y jouez de nos jours.
Mais alors comment y jouer aujourd'hui (comme dirait Nono) ? Il y a plusieurs solutions, vous pouvez :
essayer de dénicher une borne d'arcade d'occasion (ok j'arrête),
tenter le jeu sur émulateurs (je ne recommande pas la version méga CD qui fait saigner les yeux mais plutôt de passer par l'émulateur Daphne-Singe2 qui donne d'excellents résultats,
ou encore, opter pour le portage de Digital Leisure sur PS2/PS3/PC/3DS/Wii qui reste tout à fait acceptable.
C'était...Mad Dog McCree
La borne d'arcade a connu un énorme succès au moment de sa sortie, permettant la mise en chantier de deux suites Mad Dog II : The lost gold en 1992 et The last Bounty Hunter en 1994, que votre serviteur n'a jamais fait mais qu'il se fera un plaisir de tester pour vous prochainement.
Le Verdict du testeur...
Global

84
%
Galerie